Onsite Car Battery Replacement in Singapore
Are you stuck on the road with a weak battery? Are you unable to start your car due to a dead battery? No worries team at Swift Tyre Specialists is ready to help you. We are specialized in car battery replacement, jump start, battery testing, and other electric parts repair to keep you on the road. We offer onsite change of car battery and repair services Singapore wide.
DO NOT PANIC, when you are stuck on the road with a faulty battery. Just give us a call on +65 8484 3838, and our battery expert will reach your location within 20 to 45 minutes. Our team will run a diagnosis to identify the cause of the problem and if needed, suggest changing car battery. We always carry branded batteries to perform onsite car battery replacement services.
HHaving a car battery inspection twice a year can help prevent the sudden breakdown of the car electrical system due to a dead or inefficient battery. Our expert technicians perform step-by-step car battery testing and keep you updated with the current battery health condition. Unless the wear and tear are beyond the repair then only we suggest car battery replacement. So call us now to schedule an inspection.
Why choose us for changing your car battery?
With years of experience and expertise in fixing flat car battery related issues for different makes and models of cars, lorry, vans, etc. we garner ourselves as one of the best car battery replacement company in Singapore. Being always available is one of our trusted USPs for our clients, we work round the clock, 365 days in a year and 7 days a week, we are also available on public holidays. Singaporean also trust us for prompt and reliable services, we usually reach your location within 20 to 45 minutes max. We stock only TOP battery brands like Excide, Mutlu, Deta, and Globatt, and we assure you to offer fresh batteries every time when you engage with our services.
1

24/7 and 365 Days Available

We are always available to supply a new battery in Singapore, we work even on public holidays.

2

Fastest Turn Around Time

We usually arrive at your place within 20-45 minutes to perform your car battery replacement.

3

Friendly & Trained Technicians

All our friendly technicians are highly skilled and experienced when it comes to changing car battery.

4

Battery Warranty

Drive with peace of mind! All batteries comes with 12 months warranty.
Emergency Roadside
Battery Charging
and Replacement
Call +65 8484 3838
Singapore Islandwide Roadside Assistance
Swift Tyre team of mechanics readily available to take your call any time anywhere across Singapore. Just give us a call on +65 8484 3838 and one of our technicians will be at your location for onsite car battery replacement services. We operate Island wide, we work 24x7x365 which means our well-equipped mechanics are always available to deal with your car battery problems.
When you call us, our support team will ask several questions to understand the car battery problem and ask for your location. Our mechanic arrives at your location with all the necessary tools to diagnose battery problems. They will carry a branded battery if there is a need of changing car battery. Our friendly approach, emergency assistance, and competitive rates set us apart from our competitors when it comes to car battery replacement in Singapore.
Stuck with your car on road? Need quick roadside assistance? CALL us on +65 8484 3838 for the most convenient way to fix your car battery problem.
Our Procedure for Car Battery Replacement
Your car battery needs thorough testing before we can be sure there is an irreparable issue. Often, car owners want to invest in a new battery, simply to improve performance. Yet, even minor issues can lead to you considering the option of car battery replacement. We will test your battery, diagnose the cause of the issues you are facing, and determine whether or not we can bring it up to speed. If not, we will advise you about changing car battery.
Engage Us

All you need to do is give us a call and book our car battery replacement services, and let us take care of the rest.

Issue Verification

Once the issue has been diagnosed, our technicians impart with the most suitable solution.

Quotation

We provide you with a clear quote for the required services based on the diagnosis of the issue.

Completion

We complete the task in the given timeframe and let you check it properly.

Payment

You only pay us when you are completely satisfied with our work.
Are you still facing issues after-service? No issue all our products come with 1 year no question asked warranty. Call us and we will be happy to assist you. Make a note that different make and models require a different type of battery, so car battery price may vary accordingly. If you face any issues, you can get in touch right away.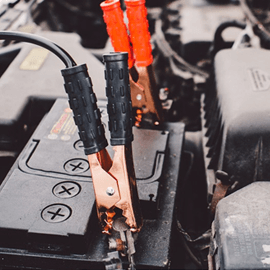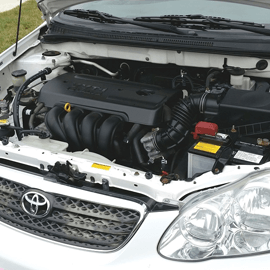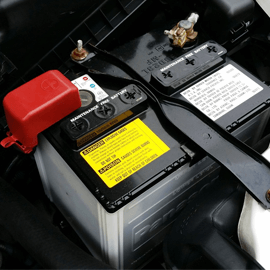 Know When to Replace Car Battery
The battery of your car is the most crucial component. It functions like the heart of your car, pumping voltage to the other components and devices through the wires, giving them a jolt to start every time you turn the key in the ignition. Therefore, it is very important that you keep monitoring the health of your car battery like you do with the other parts of the car. So car battery replacement is essential when it's required.
Almost half of the calls that we receive for roadside assistance have car battery failure as the main reason for the car to break down. The average lifespan of a car battery is 3-5 years, which means that it can break down as early as 1-2 years, and last as long as 5 years. If your car battery has outlived more than 5 years, you do need car battery replacement before it causes you to get stranded and call for help.
It is easy to identify if your car battery is acting up and needs to be replaced. All you need to do is notice the response of your car when you turn the key in the ignition. A battery that is working fine should be able to start the car within one second, but if it taking longer, putting a load on the ignition, this indicating a need for car battery replacement so, you need to get your battery checked immediately at our car workshop.
You can also check the battery by starting your car and turning on the headlights. Once the headlights are on, push the accelerator, and notice if the lights get brighter as you push down on the accelerator. If this is the case, it is time for changing car battery.
If your battery fails and you are stuck on the roadside, we will come with a spare battery and plug it in to start your car. If the car fails to start yet, you will require a towing service or car battery replacement service.