Best Car Service Singapore
With great convenience comes great responsibility! Likewise owning a car comes with maintenance responsibility. Car service is a basic need to enjoy smooth and safe riding. Every car requires servicing twice a year or 10,000 miles whichever is earlier. A well-maintained car runs like brand new, no matter how old it is. At Swift Tyre Specialist, we strive to provide the best car servicing in Singapore to give you a safe and pleasant drive experience.
We offer a range of car service options, from basic maintenance like oil changes, spark plug changes, air filter changes, tyre pressure checks, tyre condition checks, fluid checks, and more, to major car servicing like engine checks, steering controls, drive systems, fuel systems, electric, brakes, and more, all at an invincible price.
Trust our Product
There are many distortions out there about car servicing company that they might mislead you for a handsome amount. We ensure that with Swift Tyre Specialist, you will feel confident about your car servicing decision. We make sure our clients don't spend a penny on unnecessary car service or repairs. Our professionals will guide you regarding every service required by your car for smooth functioning and offer additional recommendations if needed.
We understand the importance of car service. Our work is renowned as the best car servicing in Singapore, and we promise you that our service will help increase the lifespan of your car and keep you on the road. We guarantee you best-in-class car service in Singapore, ensuring you will be glad to come back to us.
Below is our procedure for checking but if you need more information, you can always call us:
Contact Us

If your car requires servicing, we can perform complete maintenance and checkup for you, including car and tyre repair. Contact us for your car service as we known for providing best car servicing in Singapore.

Price Information

We have the experience and expertise to perform car servicing quickly and efficiently.

Executing Repair Work

We accept payments through NEFT while you can also pay us by cash.

Cash, NETS or VISA Payment

Once it is done, we will receive your payment.
CHANGE YOU ENGINE OIL BETWEEN 7000 TO 9000 KM OR REACHING 3 MONTHS FOR BEST OPTIMUM ENGINE PROTECTION AND PERFORMANCE.
Oil Change – More than You Wanted to Know
Engine Oil
Your car engine requires clean and viscous engine oil to function smoothly, so you need to change it periodically. Get in touch with us for the best car service in Singapore.
About the oil classification system.
The oil classification system is used to determine which type and grade of engine oil is suitable for your car, based on its make, year of manufacture, and mileage.
Oil Filters
Oil filters help keep your engine oil free from contaminants which are formed in your car with use over time.
Fluids
Fluids are used in various components of the car to keep them cool, lubricated, and keep the car running smoothly.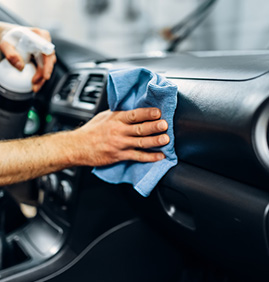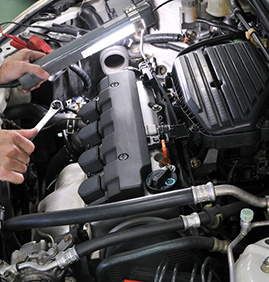 Best Car Engine Oil Change Services
We provide trusted advice and easy management for all your car service needs. If your vehicle is in need to change the engine oil, we offer a comprehensive inspection of your vehicle first, if we diagnose, the oil in your vehicle becomes infested with dirt, metal and other debris that is responsible for oil to lose its viscosity, we remove the dirt and debris and clean the engine oil. Swift Tyre Specialist ensures to provide you with the best car servicing in Singapore by experienced technicians at the best price.
The viscosity of the oil should be lower at cold temperatures so that it pumps properly. On the other hand, the viscosity should be greater at high temperatures. There are multi-grade oils that are suitable for both kinds of climates.
The temperature is usually hot and humid in Singapore throughout the year, which increases the possibility of engine wear and tear. Hence, it is preferable to use engine oil with higher viscosity at hot temperatures. Call us or visit us for complete car services in Singapore.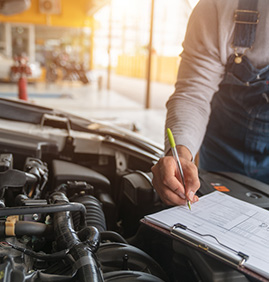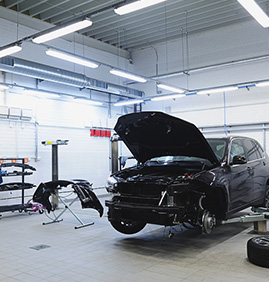 FAQs
How Often Should I Get an Oil Change?

You should get an oil change every 3000 miles or the oil and filter must be changed at least once a year as per recommended by the manufacturer. Generally, the oil change frequency depends upon the model of your vehicle for that reason, check your vehicle's owner's manual. For car servicing, bring your vehicle to the best car service provider so that the technician will reset the oil life monitoring system.

How Often Should I Check My Vehicle's Fluid Levels?

Inspecting your vehicle's fluid level once each month can be enough to ensure the fluids are clean and at the sufficient level. To keep your vehicle run smoothly the easiest thing anyone can do is check the fluid level to ensure your car stays healthy. You can do this maintenance check easily by yourself at home. Else, bring your vehicle to the car repair workshop for the fluid check.

How Often Should I Change My Air Filter?

It is recommended that the engine air filter should be replaced between 15,000 and 30,000 miles that too depending on your driving conditions. In case you often drive on unpaved roads then the probability of filter catches sand and other debris increases hence, you need to change the air filter more often. On the other hand, you don't drive a lot, the air filter should be replaced at least every 3 years in that case.

When Should I Replace My Brake Pads?

Brake pads are the most crucial parts of any vehicle if you realize that your car's brakes are squeaking, squealing or making ominous grinding noises whenever you are applying pedal this might be an indicating the need of new brake pads. If the brake pedal has more travel than usual before you feel much braking force or you are feeling like your car requires longer distance to stop then this could be the sign of replacing brake pads. Find out the best car service provider and bring your car to get your vehicle's brake pads replaced.

When Should I Replace My Car Battery?

A car battery is one of the most important parts of any vehicle, it manages a massive range of tasks and devices from starting the engine to powering in-car computers. Well, the car battery can last for five years if it is being cared but most of the car batteries will become worn down and inefficient within three years. The car battery gradually deteriorates with every time it's charged up by the vehicle's engine. Get your car battery checked by the technician next time you bring your car to the car repair workshop.

Do I need to charge my battery after I jump-start my vehicle?

If you jump start your vehicle, let it run for a few minutes or at least 20 minutes. It would help the engine recharge the battery. If it holds the charge then you need not worry. Make sure to drive your car for about 20 to 30 minutes before stopping again so that the battery can continue to charge otherwise you might need another jump start or a car battery replacement service.

When Should I Get a Tire Rotation?

As per the general rule, tyre rotation is recommended every 7,500 to 10,000 miles. Also, the tyre rotation depends on your driving style and mileage. Above-average mileage, aggressive driving will require more frequent tyre rotations. Check your vehicle's owner's manual for a recommendation from the manufacturer for tyre rotation for the specific make and model.

How Much Air Pressure Should I Put into My Tires?

For the safety purpose, it is crucial to maintain the tyre pressure of your vehicle. The recommended air pressure inside the tyre is measured in pounds per square inch and usually, the recommended pressure ranges between 30 and 35 PSI. Air pressure recommendations are based on readings taken from a tyre pressure gauge. You can also find the right pressure for your tyre on the sidewall of your tyre below the manufacturer's label.

When should I replace my car's fuel filter?

This is a thumb rule that replacing a fuel filter on an older car is at least every 2 years or 30,000 miles. It mainly depends on the miles driven. Replacing a fuel filter could not push to 60,000 to 10,000 miles because it may cause a fuel pump failure. The best way to know if your fuel filter needs replacing is to have the mechanic do a fuel pressure test. So that the mechanic knows how much PSI the fuel pump is generating at the fuel rail and the faulty fuel filter reducing the pressure produced.