24hrs Car Tyre Replacement & Tyre Repair Services
Have you got stuck on the road with your flat Tyre?
When it comes to car tyre replacement, we are experts with many years of experience and hundreds of satisfied clients under our wing. Our team are prepared and well equipped to serve you best tyre change service and look after your car.
We do not just replace old tyres with new ones and send you on your way. We have a thorough assessment process to diagnose the condition of your existing tyres, following which we advise car tyre replacement the best solution. We execute our strategy only after you are satisfied with our proposal, and deliver the best results.
Singapore Islandwide Roadside Assistance
We provide roadside assistance to our esteemed customers, wherever they are in Singapore. When needed, we provide onsite car tyre replacement services with new ones on the spot. All you need to do is call for tyre change service, and we try our best to reach you in the fastest time possible.
Contact Us

Get in touch with us for a range of car tyre repair and car tyre replacement services. Let's discuss your needs so we can serve your needs perfectly.

Price Information

We provide you best quote based on the car tyre features you selected. Car tyre price vary based on the tyre brand and features.

Executing Repair Work

Once you decide car tyre our experts executes car tyre replacement work in an efficient and effective manner.

Cash, NETS or VISA Payment

Enjoy the utmost convenience with multiple payment options. Use cash, VISA or NETS payment to settle your bill.
IN CERTAIN CASES, WE CANNOT DO ANYTHING TO SALVAGE YOUR TYRE. IF YOU DON'T HAVE A SPARE, WE WILL LEND YOU ONE. IN CASE WE DON'T HAVE TYRE OF THE RIGHT SIZE, YOU WILL NEED TO USE A TOWING SERVICE OR PURCHASE NEW TYRE FROM US TO CHANGE IT ONSITE.
When to change New Car Tyre?
Generally, tyres have a shelf life of six to ten years, and you can use them safely for 5 years or 20,000 miles, whichever occurs first. However, the need for tyre change services depends on the usage of your car. If your daily route consists of rocky roads or off-road tracks, your car will need tyre replacement services much earlier. If you live in a hot climate, even then your tyres will wear out much faster.
The most reliable way to check your tyres is to look at the depth of the treads. If the inside of the tyre is close to or level with the treads, it is time to get a replacement set of tyres or get a car tyre replacement.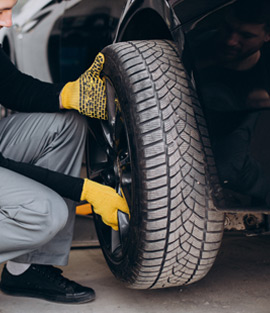 Tyre Replacement Services
Car Tyre Swap Service
If you are changing cars and think your old tyres would do just fine, you can Call us to take care of the swapping. Our team of experienced technicians carries out onsite visits and checks your tyres to see if they are the right fit for your new car.
Purchase New Car Tyre
Not only do we sell car tyres, but also provide car tyre replacement for you and carry out all the diagnostics for your new tyres. Once your new tyres are in place and everything is set, only then do we let you drive away. You can also Call us, and we deliver tyre change service and replace your new tyres onsite.
Change To Your Spare
If you ever get stuck with a flat tyre and no tools, you need not worry. All you have to do is Call us, and we will come to the rescue and provide best car tyre replacement or tyre change service. We will also loan you a spare tyre if you don't have one, or if your spare tyre is flat as well.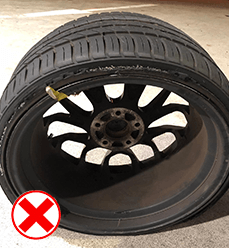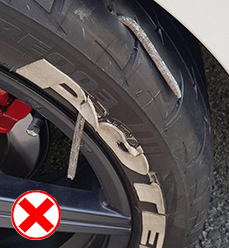 FAQs
In which situation do we need a car tyre repair?

Car tyres can suffer serious and minor damage. The damage decides whether you need car tyre repair or replacement. Here are the points that you should consider to go for tyre repair. 1. If the tyre has got punctured due to small objects 2. The puncture is less than 5mm in diameter 3. If the puncture happens in the central portion of the tread

Is there any specific time limit for tyre replacement?

A car tyre replacement should be done every five to six years, even when the tyres have not worn out or depending upon your driving habits.

Do I Have To Replace All Four Tires At Once?

Yes. You do have to replace four tyres at once. But if you do not plan to replace them all at once, then it is better to replace them in pairs, two in front or two in the rear, depending upon need.

What is the penny test?

A penny test is done to ensure the safety of tyres. Hold your penny upside down and make sure the Lincoln head is facing the bottom. Place the penny into the tyre tread depth and if you can see the very top part of the Lincoln's head then it is time to buy new tyres.

What Factors Can Cause Damage to Tyres?

Here are some common factors that can cause damage to the tyres:- • Driving habits • Weather and road conditions • Wheel alignment • Match and installation of the tyre • Tyre pressure and temperature • Loading capacity • Car speed

Signs That Your Tyres need to Be Replaced

Here are signs that you need tyre change services:- • Uneven tread wear • Tread depth • Cracks • Blisters in the tyres or sidewall • Age of tyres • Vibrations • Strange noises