Professional Car Tyre Balancing and Wheel Alignment
Having correctly aligned wheels is a vital part of keeping your vehicle performing at its best.
Driving your car regularly over a long period leads to uneven distribution of the balance of your tyres, resulting in the drive of the car getting wobbly or uneven wheel alignment. This also causes your car tyres wearing out much earlier than their normal useful life. Hence, it is important for you to look after your car tyres and adjust tyre alignment and tyre balance frequently. Balancing all four tyres of your car will result in a smoother drive, and you will actually enjoy driving your car after correct wheel balancing.
If your tyres are not balanced properly, your car's alignment can suffer, which hampers overall driving performance and experience. We offer expert tyre balancing and tyre alignment services. You can bring your car to us for balancing the tyres. We have a team of experts who have worked on hundreds of cars over wheel alignment in Singapore, and have made many customers happy. Try us, and see how the drive of your car changes greatly after we balance the tyres.
How Often Do Your Tyres Require Balancing?
Tyre balancing is crucial for the stability of your car, and the longevity of your tyres. If you wish to prolong the life of your tyres, you need to bring it in for periodic maintenance. Under normal conditions, you can get your tires checked for wheel alignment in Singapore to every 3,000 to 6,000 miles.
However, if you experience unusual vibration in the steering wheel or floorboard of the car, or you notice a wobbly drive, you should take the car for wheel balancing check-up. If you bring your car to us, we can guarantee accurate diagnostics of your car tyres alignment in Singapore. Also, set the right balance of your wheels to ensure a smooth drive, correct tyre alignment, perfect mileage, and optimal performance.
Contact Us

Balancing your car tyres is crucial for optimal performance. Contact Swift Tyre Specialists to complete the job of wheel alignment in Singapore ASAP.

Price Information

We will offer you a quote before we start wheel balancing or tyre Alignment of your car, ensuring you have a clear idea of the cost you have to bear.

Executing Repair Work

We not only balance your tyres but also make any necessary repairs.

Cash, NETS or VISA Payment

We accept payments via NETS Payment as well as cash or VISA.
WE USES HUNTER, HAWKEYE ALIGNMENT SYSTEM FOR THE BEST RESULTS. OUR CAR MECHANIC HAVE YEARS OF EXPERIENCE AND PROFESSIONALLY TRAINED USING HAWKEYE ALIGNMENT SYSTEM. WE MAKE SURE YOUR CAR WILL NEVER SWAY TO THE SIDE EVER AGAIN.
Precise And Accurate Tyre Alignment & Wheel Balancing
As you know, a number of factors affect the safety and performance of your vehicle when you are out on the road. Proper wheel alignment can play a crucial role in ensuring optimal fuel efficiency. Not to mention, your tyres might encounter uneven wear and tear if they are out of alignment. Handling your vehicle also becomes easier when tyre alignment has done properly. Depending on the service requirements of your car, get in touch with Swift Tyre Specialists to realign your tyres. Don't delay or you could end up facing issues when you are out for a drive.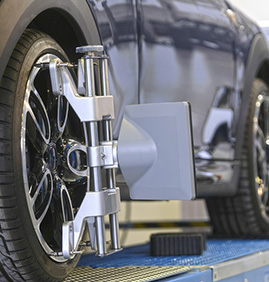 Why Wheel Alignments Are Important
You need wheel balancing periodically. Delaying or avoiding tyre balancing can hamper the performance of your car greatly. Firstly, it would wear out the tyre treads, as the wheels are not spinning evenly. Due to this, you would notice a shaky or wobbly drive, and vibration in the body or steering wheel of the car. This would result in an uncomfortable drive.
Another setback caused by unbalanced tyres is that the rough drive puts extra pressure on your engine, which in turn affects the fuel economy of the car. You will also have to deal with the wear and tear of other parts in your car, such as the wheel assembly. The wheel assembly bears excess pressure if the balance of your tyres is uneven.
If you need quick Tyre Balancing and Wheel Alignment Services in Singapore, then give us a Call on +65 8484 3838, Swift Tyre Specialist Always ready to help you anytime and anywhere.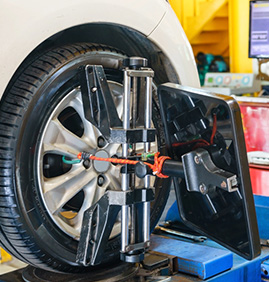 FAQs
What is the wheel alignment?

Irregular wear and tear happens due to driving on rough roads and the best way to reduce is to opt for alignment and balancing. A wheel alignment means correcting the angles of the tyres that come into contact with the road just the right way.

When do you need a wheel alignment?

If your wheel starts vibrating, the steering does not remain straight or makes noise, rapid wear occurs in the tyre, the car gets pulled right or left etc. then you should consider going for a wheel alignment. To avoid this situation, it is suggested that you should opt for a wheel alignment every 2 to 3 years or after 6000 miles. Contact us for wheel alignment services anywhere in Singapore.

What is the parameter for preventing the losing wheel balance?

There are three parameters that prevent the losing wheel balance – caster, camber and toe alignments which are necessary for maintaining the vehicle and tyres longevity.

Why do we need the wheel balancing?

Wheel balancing is different from wheel alignment; it helps to provide a smooth ride and guarantees even tyre wear by giving a proper adjustment of tyre weight in the wheels. As you drive your tyres probably lose the balance in that you need to do tyre balancing to return it to proper balance.