24hrs Car Tyre Puncture Repair Shop in Singapore
Obviously, you don't want to encounter a sudden stop due to tyre puncture when you are out driving on the road. However, a punctured tyre can put a spanner in the works, leaving you stranded on the roadside. Many Singaporean face this common issue which is why Swift Tyre Specialist here to solve onsite car tyre puncture and car tyre repair problem throughout Singapore.
Now you don't have to worry about being helpless on the roadside anymore, because we are here to help you round the clock by providing car tyre puncture repair. All you need to do is call us, and we will come rushing to your side within no time. Our team of professionals uses the latest tools to mend your flat tyre as soon as possible, enabling you to continue on your journey without any further stoppage. Keeping you out of trouble and on the road is our motto, and we wish to keep serving you the same way.
Our Procedure to Diagnose and Perform Car Tyre Repair
Our foremost priority when you call us for roadside assistance to diagnose the root cause of the problem. We don't just jump to a conclusion, asking you to replace the tyres. Instead, we check the air pressure to make sure the tyre is properly inflated. Next, we check the tyre for leakages, identifying the areas where the air is leaving the tube. Once done, we move on to the tyre repair process. We mend the damage, ensuring that you can continue using the tyre for its entire useful life, while also preventing issues in the future.
Below is our standard process for checking and diagnose car tyre repair, for more information you can call us anytime:
Contact Us

For quick roadside car tyre puncture services call us and our experienced and professional mechanics come to your aid at your location.

Price Information

Our onsite car tyre repair and tyre patching costs $50 to $80. This price doesn't include product price.

Executing Repair Work

We complete the car tyre repair in a matter of minutes, so you can get back on the road in no time.

Cash, NETS or VISA Payment

We accept various payment like cash, NETS or VISA, whichever option suits you the best.
At Swift Tyre Specialists, we emphasize the importance of diagnosing the cause of your tyre issues and repairing it, rather than asking you to buy new tyres to replace the existing ones.
What to do if Car Tyre Punctured?
Driving with a flat tyre can be dangerous for you and your vehicle when you drive with a flat tyre you are eliminating the chances of car tyre puncture repair as the rim puts extreme pressure on the tyre and cause damage to the sidewalls result in an expansion of tyre puncture and you could lose significant control of the vehicle that may lead to a worse accident.
Car tyre gets punctured due to reasons such as, if the tyre gets in contact with any sharp object like nails, screws, broken glass, etc., they embedded in the tread and tyre started losing air pressure that leads to the car tyre puncture.
If you ever unlikely stuck in the middle of the road due to car tyre puncture in Singapore while you are driving the car, then slow down the speed of your car and park it on the roadside. The one thing that you can do immediately is to take out your mobile phone and call Swift Tyre Specialist, one of the finest roadside assistance service providers in Singapore. They help you to get back your car on the road easily.
Share your exact location with us, we track your location and will reach you within no time. You will get the best car tyre puncture repair service through our experts. We are the team of dedicated experts available round the clock no matter where you got stuck with a flat tyre in Singapore and offer onside car tyre repair and replacement service.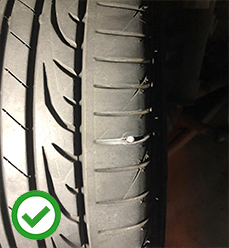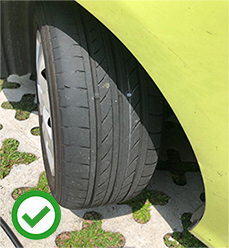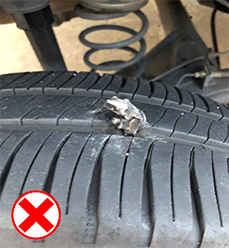 Repair Without
Changing New
Car Tyre
Additional Service for Your Car Tyre
Experiencing a tyre puncture can become quite the headache, especially if you are driving to work or someplace important. The problem can be greater if you do not have a spare, your spare is not in good condition, or if you do not know how to change a tyre. In such a situation, you can count on us to help you out as Swift Tyre Specialist provides the best car tyre puncture repair service in Singapore.
At Swift Tyre Specialist, we do not just ask you to change your tyre at every puncture that you encounter. We are known for our professionalism, and for helping people out by providing car tyre repair solutions at the right time. Apart from replacing a tyre, there are a number of things that we can do for you. If you are stranded on the roadside and you call us, we make sure to reach you in the least time possible.
If your tyre has a small puncture that can be mended on the spot, we do so and get you going towards your destination. However, if the tyre puncture is big, or there are multiple punctures, we can lend you a spare tyre to take the car to the workshop. In case we do not have a tyre of the size, we can have your car towed to the workshop.
If you need to borrow spare tyre from us, you will need to put down a $50 SGD deposit when we lend you a spare tyre. This policy safeguards us against fraud and helps us meet client demands. We will return the deposit once you return the tyre.
Singapore Islandwide Roadside Assistance
No matter where you are in Singapore, you may encounter a flat or punctured tyre at least once in your lifetime. It can be a temporary setback, causing you a waste of time and money. We are always on our toes and prepared to rush to your aid as soon as you call us for car tyre puncture service.
Whenever you are stuck due to a flat tyre or tyre puncture, you can call us. We track your location and within no time, send our team with the necessary equipment to provide car tyre puncture repair in no time. When it comes to onsite car tyre repair, there is no better tyre repair shop than us, and you can always count on us.